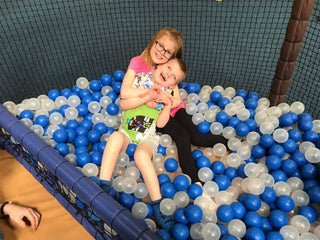 About us
Hey there, and a big playful welcome to Playinc!
I'm Laura, the founder of Playinc, where sensory toys come to life. We used to go by the name Sensory Toys UK, but we've transformed into Playinc to capture the true essence of what we're all about: fun, imagination, and endless inclusive play!
Back in November 2019, this wild adventure began as a proud Mum to a little superhero named Zac. He's got Angelman syndrome and has been the driving force behind everything we do here. Zac's incredible spirit inspired us to make sensory toys accessible to families like ours who may have tight budgets but still want to provide their loved ones with the best playtime experience ever.
Let's be real for a moment. Sensory toys can sometimes cost you an arm and a leg. But fret not, because we're here to shake things up! Our mission is to offer top-notch sensory toys that won't break the bank. Yep, you heard that right. We're all about great value without sacrificing the magic of play.
Now, let's talk about our Chief Tester, the one and only Zac. He's a 11-year-old superstar who knows exactly what he wants in a sensory toy. Focus can be a challenge for him, so we've made it our mission to create toys that are not just multi-sensory, but also super interesting and engaging. We want to captivate his imagination and keep him excited for hours on end. And guess what? He absolutely adores water! So you might just find a splash of aqua fun in some of our toys.
Safety is our top priority, too. We want you to have complete peace of mind while your little ones embark on their playtime adventures. All our toys are carefully selected and tested to ensure they meet the highest safety standards.
So, join us at Playinc and let's dive into a world of play, laughter, and boundless joy. We're thrilled to have you here, and we can't wait to help you create unforgettable moments filled with wonder and imagination.
Stay playful,
Laura and the Playinc Team
Our Location
Address:
36 Colonel Road
Betws
Ammanford
Carmarthenshire
SA18 2HP

Mon-Sat (Office hours) : 9 - 2.30 pm
Tel: 0330 122 4417